Whether you love hunting in the wild or you are a passionate wildlife lover, a climbing tree stand is a must-have item in your life.
It not only allows you to blend in with your background but also provides you with the best viewpoint for photography as well as for making a direct and clean shot at your target.
However, most hunters and wildlife photographers often choose not to buy climbing tree stands despite being fully aware of the convenience these stands bring in their lives.
This is majorly due to their hefty price tags. Therefore, in this article, we will help you find the best budget climbing tree stands that are reliable and will also provide you with all the benefits of an efficient tree stand.
Best Budget Climbing Tree Stand
1. Summit Treestand Mini Viper SD


Durable with SummitLokt Technology

300 lbs. Weight-bearing capacity

2. Summit Treestands Viper Steel Climbing Treestand


300 lbs. Weight-earing Capacity

3. Ol Man Steel Tree Climber


3-Way Design (Suitable for both Bow Hunters and Gun Hunters)

300 lbs. Weight-Bearing Capacity
1. Summit Treestand Mini Viper SD

Features:
Brand: Summit Tree stands
Weight: 18 pounds
Capacity: 300 pounds
Summit Tree stands are the leading brand for all kinds of hunting gear accessories and climbing tree stands with its products being known for their reliability and durability.
The Mini Viper SD tree stand is no exception with its lightweight and impressive strength. Constructed from aluminum, the tree stand can hold up to 300 pounds of weight and can hang around a tree of diameter ranging from 8 inches to 20 inches.
Moreover, with its very efficient cable retention system, you can easily hang it around any tree.
Furthermore, this tree stand is equipped with a number of impressive features to ensure the safety and comfort of the users.
The high-quality SummitLokt technology makes sure that every joint is locked tightly in a place whereas the stirrups of the tree stand are designed in such a way that they can comfortably fit any boot size.
These stirrups also enable you to climb at any height with ease. Moreover, the seats are well cushioned to ensure users can sit in the stand for long periods of time.
However, what sets Summit apart from other brands is its DeadMetal technology. This keeps the noise of the tree stand to a minimum and helps hunters remain concealed from their targets.
The tree stand also boasts a five-year warranty, assuring users of its durability and lengthy lifespan. Thus, despite being a little small in size, this is the best budget-friendly climbing tree stand available.

2. Summit Viper Steel Climbing Treestand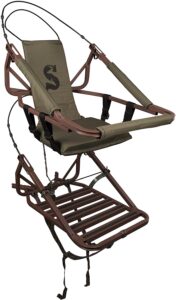 Features:
Brand: Summit Tree stands
Weight: 29 pounds
Capacity: 300 pounds
Number two on our list is another one from Summit Tree stands. The 29 pounds, Viper Climbing Tree Stand built from steel is a reputable climbing tree stand with impressive strength and durability.
Despite its lightness, it's a strong treestand that can hold up to 300 pounds of weight.
In addition to this, the climbing tree stand is designed to be extremely quiet in its operation and includes the QuickDraw cable retention system for easy access and in order to smoothly move up and down the tree.
The dusty, brown color also helps the users remain undetected and adds to its ability to conceal. Moreover, the climbing tree stand is extremely safe and offers a one-year warranty to assure the users of its reliability.
However, what we and all others adore about this climbing tree stand is the comfort it provides. It has extremely comfortable and adjustable cushioned seats as well as stirrups that can fit any boot size.
Furthermore, the height of the climbing tree stand is also adjustable and users can adjust it based on their own preferences. The only downside is that it is not as light as other tree stands in the market.
Although steel is not a preferable choice of metal for the Climbing Tree Stand, the Viper Steel Tree stand proves that is nothing less than the aluminum stands and is just as good and reliable.

3. Ol Man Steel Tree Climber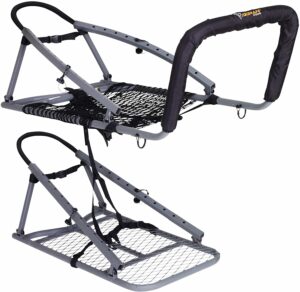 Features:
Brand: Ol Man
Weight: 29 pounds
Capacity: 300 pounds
The Ol Man Steel Climbing tree stand is one of the most budget-friendly versatile tree stands available on the market. Made in the USA, it is an extremely stable multi-vision tree stand that can easily shift from one terrain to another.
Furthermore, its three-way design makes it extremely adjustable. It can accommodate both bowhunters and gun hunters by allowing users to adjust the stand according to their needs.
Furthermore, it is an extremely safe climbing tree stand that comes with a full-body safety harness and can hold up to 300 pounds of weight.
In addition to the safety, Ol Man also prioritizes comfort by offering large mesh seats which can fit in quietly without any noise that can attract the target animals. The overall functionality of the tree stand is extremely quiet.
The only downside to this is that it is not very light with a weight of 29 pounds. This also adversely affects its portability.
Nonetheless, given its affordable price, it is an extraordinarily strong and durable climbing tree stand that has the ability to efficiently survive in rugged terrains. It is one of the most high-quality stands available which is also affordable.

Buyer's Guide
When looking for a budget-friendly climbing tree stand, we must not ignore other important features in exchange for a low, much more affordable price.
You must choose climbing tree stands that are not only affordable but are also of good quality as hunters put their lives into the hands of these stands.
You must not risk your life for a low price. Thus, below we have listed down the important features you must consider when looking for a budget-friendly climbing tree stand.
Quality
Climbing tree stands are complex pieces of equipment. You do not want to take a risk with them. Thus, always go for renowned and reputable brands which are known in the market for their high quality and durability.
These include Summit Tree stands, Lone Wolf, and Ol Man.
Weight Capacity
Another important factor to consider is the weight capacity of the climbing tree stands. This is essential for the safety of your climbing tree stand.
Do not compromise your safety for an affordable price tag by choosing a tree stand that has a maximum weight capacity less than your own weight. Even if your weight exceeds the maximum capacity by a single pound, do not purchase that tree stand.
Ease of Climbing
The main purpose of a climbing tree stand is to allow you to conveniently climb the trees. At the end of the day, this is what should matter.
Thus, you must purchase the climbing tree stand that offers you comfort and ease in climbing.
Warranty
Warranty of climbing tree stands is also very crucial. Purchase treestands with a warranty of at least one year.
Conclusion
Climbing Tree stands are an essential climbing tool in the lives of hunters and wildlife lovers. One should not miss out on the convenience they provide due to their limited budget.
The climbing tree stands mentioned above in the article are not only of excellent quality but are extremely affordable. They will surely offer you the best return on investment on your purchase.
Our favorite is the Summit Tree stands Mini Viper SD for its impressive durability, strength, and its reputable brand. Nonetheless, any one of the three is an amazing option.