Protein plays a crucial role in the growth of deer antlers, just as it does in humans who go to the gym to build strong muscles and consume essential nutrients.
Similar to humans, animals like deer also require these nutrients for growth. It has been observed that adding more protein to the diet of deer can lead to a higher growth rate of antlers.
Deer antlers typically begin their growth during the summer or spring seasons, and an interesting fact is that they can grow at a remarkable rate of 3 to 4 inches per week.
After months of testing and experimenting with various protein feeds available on the market, we have selected the following four protein feeds as our top choices:
1. Whitetail Institute 30-06 Plus Protein
Imperial Whitetail is a specially formulated protein feed designed to meet the specific nutritional needs of deer during critical growing seasons such as spring and summer.
This feed contains essential nutrients, including protein, in the necessary amounts and ratios to promote healthy deer antler growth.
With a balanced blend of macro and trace nutrients, including vitamin A, D, and E, Imperial Whitetail supports the bucks' genetic potential for antler growth.
Additionally, this feed is known for its enticing scent and delicious flavors, which can help stimulate deer appetite and attract them to it.
Pros:
Successful deer attraction in majority of the tested locations.

Deer love its taste. It's like a deer crack.

Fairly easy to use.

Increases activity on trail cams with repeated deer visits.
Cons:
At some locations it will not attract deer.

Avoid applying it to grass, as it may harm its growth.

It also attracts racoons and other unwanted animals.

Works well until it rains.
2. Wildgame Innovations Peanuts Rage Deer Attractant
Wildgame Innovations provides hunters with a convenient solution to promote deer antler growth without the need to acquire large amounts of peanuts.
Their product includes a nutrient-rich blend of peanuts and roasted soybeans, effectively luring deer while providing essential nutrients.
The Wildgame Innovations peanut rage offers a convenient means to fulfill the protein requirements of deer.
Pros:
It rapidly attracts deer and proves highly effective in the majority of tested locations.

Fairly priced – Value for money.

You will notice increase in deer activity on trail cams.
Cons:
It lures squirrels more effectively than it does deer.

To improve results, mix corn with this lure as deer prefer corn over it.

In some tested locations, it did not successfully attract deer.
3. Antler King Trophy Deer Mineral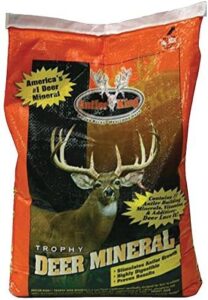 Antler King Trophy offers a top-quality deer antler growth food that is packed with 27 essential nutrients, including amino acids, trace minerals, and additives.
This protein-rich food promotes healthy digestion, attracts deer, and enhances nutrient absorption.
Pros:
Jaw-dropping results in just 15 days, young bucks turning into larger bucks.

Works like a charm in attracting deer at majority of the locations it was tested.

Deer are so attracted to it that they would even create holes at the location where it is placed.
Cons:
Attracts the nearby deer only but not the distant deer.

Not effective in attracting deer at some locations we tested.

Priced slightly on a higher side.
4. Whitetail Institute Imperial Clover Deer Food Plot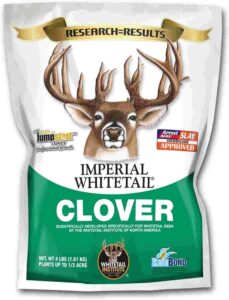 The Whitetail Institute provides a range of products to support deer antler growth, including a clover option. The Whitetail Institute Clover Deer Food Plot Seed is designed to last up to 5 years from a single planting.
It is rich in antler-building protein, promotes milk production, and contributes to the health of fawns. It can be planted in either spring or fall for optimal results.
It is also heat and drought-resistant, with high nutritional value, and fortified with Whitetail Institute tall-tine turnip.
Pros:
Highly attractive not only to deer but also to turkeys.

Provides a year-round food source for deer and turkeys.

Fast germination and growth in favorable conditions.

Good deal for the money.
Cons:
The growth is not dense or thick.

Requires proper soil preparation and maintenance for optimal results.

May not be as effective in preventing weed growth compared to other alternatives.

Inconsistent seed quality.
The Bottom Line!
Protein is a crucial nutrient for promoting deer antler growth. It is advisable to choose any from our top picks for best deer protein feed and seeds for attracting deer to your hunting grounds or food plots.
Foods abundant in these essential nutrients not only support antler growth but also contribute to the overall health of deer.