The Gunslinger Tree Stand by Deer Crossing Tree Stands Inc is the other name of comfort. The stand has been designed to ensure the user's convenience and comfort.
The seat on this stand is shaped like a hammock, which makes the gunslinger an ideal deer stand to play the waiting game. It has considerable leg space, so the hunters don't have to bend their legs and can keep them stretched in a relaxed position during long wait hours.
The gunslinger tree stand is made of high-quality aluminum and comes as a complete package, which includes all the accessories to ensure the safety and convenience of users.
Gunslinger Tree Stand Models
There are two models of Gunslinger tree climbers available on the market:
Gunslinger-250
Gunslinger HD-350
Both models almost have the same features and size. The only prominent difference between the two is their weight and weight-bearing capacity.
The Gunslinger-250 weighs around 26 lbs and has a weight-bearing capacity of 250 lbs. However, The Gunslinger HD-350 weighs around 32 lbs and has a weight-bearing capacity of 350 lbs, making it an ideal tree stand for big guys.
The company has been in business for the past seven years and is run by its three directors, who firmly believe that a successful hunt solely depends on the hunters' comfort. Hence, they claim to make their treestands of the highest comfort level available on the market.
Gunslinger Tree Stand
The Gunslinger comes fully equipped with the features listed below:
The gunslinger tree stand's most outstanding feature is its comfort. With its hammock-type seat that comes with a headrest and changes its position as you change yours, it provides a level of comfort like no other.
Moreover, it provides enough space to stretch your legs with three distinctively different positions to rest your feet.

Twenty Inch of inside width is spacious enough to sit, stand, turn or climb so that you don't get tired sitting in one position. You'll happily spend hours waiting for your prey and enjoy the hunt if you're comfortable.
It has straps to wear like a backpack and carry on the shoulders. For this reason, its bottom teeth blades are covered, so they don't cause discomfort while the hunter carries the stand.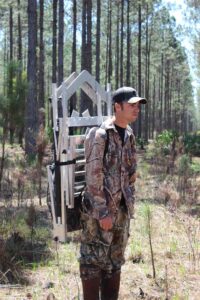 It has a big hook where the rifle/gun sits, and you can conveniently climb up with it right by your side, and you don't have to rope pull it up.
Another feature of the gunslinger tree stand is its heavy-duty construction; it is made of high-quality aluminum that does not make noise, preventing your prey from scaring away.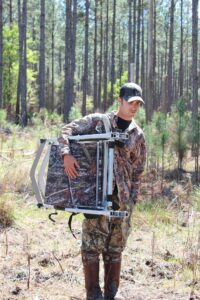 The stand climbs up and down the tree very smoothly. And nothing comes in the way of your legs, creating a calm, peaceful climb up and back down.

The gunslinger tree stand is easy to set up; it has a fixed bar in which the bolts go to pre-drilled aluminum tubes. You must figure out the base and see which holes it needs to go in. Simple, easy, and quick; it saves time and effort!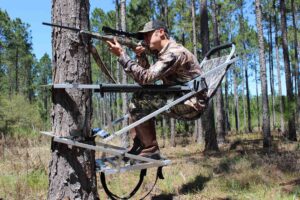 Things to consider when buying a Deer Stand 
Tree stands are a hunter's best buddy. So, if you are a hunting freak or passionate about this sport, you should consider investing in a durable tree stand.
As plenty of treestands are available on the market of varying sizes, weights, designs, and levels of comfort, it's undoubtedly a challenge to decide on one; thus, we have created a list of factors to look for in a tree stand to make your job easier.
1. Comfort 
In our opinion, the number one and most crucial factor to look for in a tree stand is comfort! Hunting is all about waiting for your prey, which can take multiple hours, and if you're not in a comfortable position, you're likely to get tired early or give up altogether.
So, a tree stand needs a cushioned, comfortable seat and spacious foot space so you can rest up your feet or stretch your legs without standing up too often.
2. Material
Another essential factor to consider is the material of the tree stand. Aluminum tree stands are strong, durable, and of high quality; they also don't make much noise, whereas the metal stands make a ringing noise and wear and tear faster.
3. Ease of Setting up / Carrying
A tree stand should be simple to set up and pack as you can't spend hours setting up and packing it again. 
Similarly, a tree stand should be easy to carry, so you don't have to put in so much effort and work to move around or take it from place to place. 
4. Height
The higher a tree stand goes, the easier and smoother it is to target the prey. So, look for tree stands that can go up to 20 feet, enabling you to conceal yourself.
5. Safety
Lastly, a tree stand must include a safety harness and securing straps to prevent falls and accidents.
Final Thoughts
The Gunslinger stands out in the market due to its exceptional and unmatched comfort, and customers love the comfy hammock seat that gives them their lawn chair vibes. 
The size and comfort of a stand are critical to hunting success, as a spacious, large, and comfortable stand will allow you to stay and sit longer without your bottom getting sore.
The Gunslinger Tree Stand provides these features and allows the hunters to have a successful hunting experience as they comfortably wait for their prey. 
Hello, my name is J.R.Sullivan. Ever since a kid I have been passionate about hunting. Growing up in the countryside with the woods behind our house, hunting had been our favorite pastime. My father and I would wake up before anyone else, pack our bags, and spend hours in the woods in complete silence, waiting for our prey. This was not only a hobby for us but a way of life and the number one way we bonded.