For almost 20 years since Timbertall treestands had been in the market, its name had been compatible with being the best climbing tree stand in the market, incorporating innovation and invention into their stands made of aircraft-grade aluminum at a time when others made theirs from steel.
Timbertall Treestands
Timbertall treestands are the pioneers of using cable systems around the tree, PVC cable coating, sling seating, and most importantly, the trigonometric design that works with gravity flow.
The design uses gravity to keep the hunters safe up in the trees compared to using sharp teeth, which are not believed to be safe.
These lightweight tree stands measuring 12-14 lbs were designed and made in the USA, using hardworking American labor and high-quality materials. In contrast, almost all other companies got their products manufactured in China.
The best thing about Timbertall Treestands was that they offered a life-long warranty, including having to get your tree stands refurbished free of cost anytime. A quality feature that other companies did not offer.
A Brief Introduction of the Company –

Timbertall Treestands
The company started as Timbertall Industries by Terry Smith in 1996, consisting of two divisions, Timbertall Treestands and Timbertall Outfitters. The company had a wide range of products, including Timber tall climbing tree stands, hang-on tree stands, ladder stands, tree stand accessories, camera arms, wheelchair shooting rests, and foldable ATV ramps.
Timbertall outfitters provided clean, spacious, and comfortable lodging and unmatched trophy whitetail hunting in Western Illinois.
In 2010 the company was bought by Chippewa Wedge-Loc, which also manufactures tree stands known for their unique harnesses and wedge lock system.
Five years later, the Timbertall Treestand division of the company went out of business due to an insurance liability; however, the Outfitters business continued to thrive, as the company had been seen at different hunting expos across the country.
Best Seller

Timber Tall Climbing Tree Stands
Timbertall manufactured a variety of tree stands, but their most popular tree stands are:
1. Timbertall Brute Lite Treestand
A super lightweight and compact stand, weighing only 14.5 lbs, can hold up to 300 lbs of weight and fit onto trees ranging from 8 to 22 inches in diameter.
It is easy to carry, set up, and pack and comes with a knob for adjusting the seat and platform level. The sling seat has a padded backrest and a full arrest system with safety strings attaching from the seat to the foot climber for added safety.
Timbertall Treestand's Brute Lite climbing tree stand also has heavy-duty backpack straps.
The negatives of this stand are its slightly higher price and the clanking noise it made while being installed.
2. Timbertall Baby Lite

Treestand
A super lightweight stand weighing only 12.5 lbs can hold up to 275 lbs of weight.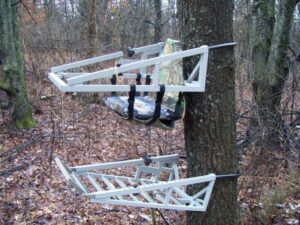 It is a sit-and-climb tree stand that requires additional features such as a bow/gun holder, shoulder straps, and a padded seat to become comfortable for the users. Adding these features, however, increase the stand's weight and cost, which is a major drawback of this climbing tree stand.
Pros and Cons of Timbertall Treestands
Customers reviewed the Timber tall climbing tree stands as extremely lightweight, stable, and compact tree stands, which are noisy yet pricey and do not come with a padded frame or bar.
Moreover, there is no place to rest the gun or bow, and even though the cable adjustment is a nice feature, it isn't easy to adjust. These stands are great if you're happy with spending extra bucks to add the finishing touch to the stand.
On the bright side, these stands are quick and easy to set up and climb. Though Timbertall claimed their customer service is the best on the market, their customers were disappointed due to the poor service; Tree stands returned to the company for revamping and were never delivered back to the customers, nor did the company answer their calls or emails.
It is believed that Timbertall tree stands had been struggling at that time, and the company was focusing solely on their outfitter business in Illinois.
Final Thoughts
Timbertall claimed to make tree stands that fulfill the desires and needs of the hunters by researching, designing, developing, and innovating. 
Their stands are extremely lightweight, making them easy to carry anywhere and set up. However, they are extremely noisy.
Timbertall treestands had unique features in their tree stands, and despite all that, the stands were uncomfortable, pricey, and required extra furnishing from the owners to make them convenient.
Even though Timbertall Treestands were the pioneers in introducing many new and innovative features in tree stands, most hunters have never even heard of them.
Hello, my name is J.R.Sullivan. Ever since a kid I have been passionate about hunting. Growing up in the countryside with the woods behind our house, hunting had been our favorite pastime. My father and I would wake up before anyone else, pack our bags, and spend hours in the woods in complete silence, waiting for our prey. This was not only a hobby for us but a way of life and the number one way we bonded.