Gun rest is a crucial part of a hunter's hunting gear. They help you make even the longest shots with great precision and accuracy. Moreover, they allow you to adjust your aim as per your height and gun size.
You can even change guns during your hunt without having to move your gun rest. Hence, there are innumerable benefits of a gun rest.
The list goes on and on. For this reason, they are one of those accessories that hunters and shooters consider a must-have for an enjoyable and relaxed hunt.
Most bow, rifle, and gun hunters take gun rests with them while mounting on a climbing tree stand. Tree stands provide the perfect platform to make a direct shot and clear view of your hunting ground.
Gun Rests, and Tree Stands work together to provide the hunters with the best possible outcome. However, not all gun rests work best with tree stands.
This article will list the best gun rest for tree stands available in the market. We have also included a buyer's guide that will assist you in choosing the most suitable gun rests for your tree stands.
Best Gun Rest for Tree Stand
1. Summit Treestands Adjustable Gun Rest


Compatible with all Treestands

2. East TN Outfitters TREEPOD Tree Stand Retention Shooting Rest

First Shooting Retention System in the Market

XL Tree Strap to carry it

Allows Horizontal and Vertical Movement

3. BOG Fieldpoint Tree Pod Gun Rest

Rubber Cradle Included for Additional Support and Stability

180 Degree Panning Ability

4. BOG Death Grip Elevation

Suitable for all kinds of weapons

5. Ypod Shooting Gun Rest

Rubber strap to tilt the gun

6. Summit Treestands FasTrack Rifle Holder

Capture strap for stability

Consists of two rifle holders

7. High Point Products Crossbow Holder for Tree Stand

Suitable for Rifles and Shotgun
1. Summit Treestands Adjustable Gun Rest

Summit Treestands is the most renowned treestand brand. They have the best climbing tree stands. Hence, it is no surprise that their gun rests are also of the best quality.
Their adjustable gun rest is compatible not only with all Summit Tree stands but also with non-Summit climbing tree stands, adding to the versatility and adjustability of the gun rest.
In addition, it is very easy to install and gets attached to any tree stand within minutes. The instruction manual with the purchase has all the installation steps explained in detail, making it extremely simple for the users.
Moreover, with its strong aluminum brackets, the gun rest is very reliable and sturdy. The brackets are also very flexible, which allows this gun rest to get attached to a tree stand of any shape and size.
However, the affordable price is the most attractive feature of this gun rest.
The only downside about this gun rest is that it does not have a long lifespan as the brackets are not very durable and break after one to two years of usage.
Furthermore, it requires extra padding to ensure that the gun rest does not make any noise during installation and gives the hunters a great advantage.

2. East TN Outfitters TREEPOD Tree Stand Retention Shooting Rest

It weighs a little over one pound and is an extremely lightweight and portable gun rest. It can be easily set up within seconds and even comes with an XL Tree strap that allows hunters to carry it up and down the climbing tree stand easily. Hence, adding to its portability.
However, what makes it ideal for hunters is its accuracy and precision. The adjustment features allow vertical and horizontal movement, allowing the hunters to follow their target and make a direct shot at them.
Moreover, the gun rest is also very comfortable to use as users do not have any problem carrying it on their tree stands for long periods.
The only downside is that adjusting and getting to the perfect angle takes a few minutes. Moreover, the metal rings also need a coating to minimize the noise they produce from metal scraping, which is essential to ensure a safe hunt.

3. BOG Fieldpoint (Tree Pod) Gun Rest

BOG is well known in the industry for its hunting gear and accessories. Their adjustable tree pod gun rest is no exception. This tripod-style gun rest is adjustable as its height can be extended from 22 to 40 inches, making it ideal for professional hunters using tree stands.
Moreover, it also features a dual-frame and a tension knob, which adds to the accuracy and precision of the gun rest as the dual-frame ensures extra stability.
The tension knob makes the gun rest extremely adjustable by allowing users to tilt the gun and providing 180-degree panning ability vertically. It also ensures hands-free usage, enabling hunters to multitask and use other hunting gear equipment such as binoculars.
The only downside is that many users find it not very safe due to the absence of an efficient lock. It is also difficult to adjust and does not work well for long-distance ranges.
Nonetheless, the gun rest offers a 1-Year warranty and is suitable to use with tree stands.

4. BOG Death Grip Elevation Shooting Rest

The Death Grip gun rest is extremely convenient to use with ratchet straps, allowing it to get attached to the tree stand easily.
The adjustable arm adds convenience and allows users to tilt the gun to shoot comfortably. In addition, it boasts a 1-year warranty, ensuring users of its durability.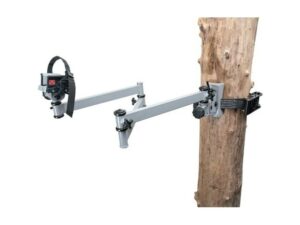 The heavy-duty aluminum construction adds to the durability and reliability of this gun rest. Since aluminum is a quiet metal, this gun rest does not make much noise, making it ideal for hunters.
The downside of this gun rest is that it's quite expensive and also not very lightweight compared to other gun-rests on our list, adversely affecting the portability of this gun rest.

5. Ypod Shooting Gun Rest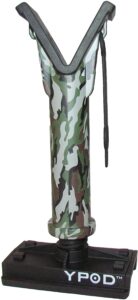 Next on our list is the Ypod shooting gun rest. It is the best gun rest to use with your climbing tree stand when deer hunting. It is a well made, lightweight gun rest that allows hunters convenience and eases while hunting.
Ypod allows you to rotate your gun and position it to make a direct and solid shot. Moreover, the rubber strap lets you tilt your weapon and use the shooting rail in any direction.
The Ypod shooting gun rest is also one of the most stable gun rest available on the market; it ensures that the rifle's weight is evenly distributed and does not cause any inconvenience to the user.
In addition, the height adjustment options available add to its accuracy and precision and ensure hunters do not need to hunch while shooting. However, what we love about this gun rest is that despite its impressive durability and versatility, it is extremely affordable.
The only downside to this gun rest is that it is loud. The squeaking sounds it produces during adjustments put the hunters at a disadvantage.

6. Summit Treestands FasTrack Rifle Holder

At number six on our list is another one from Summit Treestands. The Summit FasTrack is a lightweight, portable gun rest that can hold up to 15 pounds.
It is a dual rifle holder which works best with Summit Pro Series tree stands, and similar to all other Summit products, it is not the one to disappoint.
The Summit FasTrak Rifle Holder has been designed to ensure the highest level of accuracy. The adjustment features offered allow users to make highly precise and smooth shots.
Moreover, this gun rest also comes equipped with other impressive features. It consists of a highly efficient capture strap that keeps the weapon secure and allows hunters to shoot with convenience.
However, besides its durability and reliability, the most attractive feature is its affordable price. It is the cheapest one on our list.
Thus, this gun rest is for you if you want a gun rest with a few additional features.

7. High Point Crossbow Gun Holder for Tree Stand

Last but not least on our list is the High Point Products, Crossbow Holder for tree stands. Contrary to the name suggests, this holder is better suited for rifles and guns rather than crossbows.
It can hold crossbows, but tree stand users prefer to use it as a rifle or shotgun holder. Its lightweight nature, adjustability, and quietness make this an ideal choice for hunters.
In addition, it is very easy to use and can securely attach itself to a tree stand within minutes. Moreover, it can be folded and easily packed, which makes it extremely easy for users to carry it around and thus, adds to its portability.
Another attractive feature of this gun rest is that it is extremely durable and can survive in even the worst weather conditions.
The only downside is that it is not very good for bowhunters as it often gets into the arm space of the hunters, which increases the risk of the crossbow holder being knocked over.

Buyer's Guide:
As mentioned above, not every gun rest is suitable for tree stands. Hundreds are available on the market, and very few give you the best return on your investment.
Thus, to choose the most suitable one, there are many factors you must consider before making your final choice.
Below is the list of factors that are of utmost importance.
Weight
One of the most important factors of a gun rest is its weight. For a gun rest to be compatible with a tree stand, it must be lightweight.
Hunters need to carry the gun rest along with other hunting equipment onto the tree stands. Thus, the gun rest should be as lightweight as possible to relieve them of the extra burden.
Moreover, the weight also affects the portability of a gun rest. The lighter a gun rest, the more portable it will be.
Portable gun rests are very important for climbing tree stand users. These hunters carry their climbing tree stands from one tree to another. Thus, it must be portable to carry the gun rest and other equipment easily.
Adjustability
The adjustability is a key feature of a gun rest. The main purpose of a gun rest is to ensure accuracy and precision.
For this purpose, it must include adjustability features to allow users to tilt and adjust their gun according to their comfort level to comfortably make accurate and direct shots.
Therefore, always purchase gun rests that allow you to easily and efficiently adjust the gun when aiming.
Quality
You must also consider the quality of the gun rest. Your gun rest should support your weapon and securely hold it, which is very important when using a tree stand.
Thus, always go for reputable brands known for their extraordinary quality and impressive durability.
Price and Warranty
Price is the deciding factor for many buyers. When choosing a gun rest, keep your budget in mind and choose the one which does not compromise on quality and gives you the best value for your money.
We have listed down gun rests that are not only of great quality but are also affordable.
Moreover, also check the warranty of the gun rest before purchasing. Go with the ones that offer at least a 1-year warranty.
FAQs
Why use tree stands for shooting?
Tree stands put hunters at a great advantage. They provide them with a good cover and a platform from which they can have a clear view and direct aim at their target animals. 
Hence, treestand and gun rest together provide hunters with the best results.
Are standing gun-rests better or sitting?
Both have their advantages and disadvantages. While standing gun rests offer you a clear view of the target, sitting gun rests are ideal for hunters who hunt for long periods as they offer comfort and ease. 
Hence, it all depends on your requirements.
Conclusion
Gun rests are an important part of your hunting gear. While tree stands provide a clear view of your hunt, the gun holders ensure the accuracy and precision of the aim and shot you make using your weapon. Thus, both of these accessories are equally important.
In this article, we have listed down the best gun rests available to use with your climbing tree stand. 
Our favorite is the East TN Outfitters TREEPOD Tree Stand Retention Shooting Rest, which is lightweight, portable, and extremely versatile. 
We hope you find the right one for yourself from our list of best gun rest for tree stands available on the market.
Hello, my name is J.R.Sullivan. Ever since a kid I have been passionate about hunting. Growing up in the countryside with the woods behind our house, hunting had been our favorite pastime. My father and I would wake up before anyone else, pack our bags, and spend hours in the woods in complete silence, waiting for our prey. This was not only a hobby for us but a way of life and the number one way we bonded.